Profile
---
Henan Hongsheng Agriculture and Animal Husbandry Machinery Co., Ltd. was invested and established by Henan Xiping County Hongxing Animal Husbandry Breeding Equipment Co., Ltd. in 2015 for the needs of enterprise development. Located in the northeast corner of the intersection of Pingshun Road and Jinfeng Avenue in the industrial clustering area of Xiping County, Henan Province, the company is close to Beijing-Zhuhai Highway and Beijing-Guangzhou Railway. Therefore, the transportation is convenient. With an investment of RMB 110 million, the project, covering an area of 50 mu, is constructed in two phases. The first phase of the project has built a new standardized workshop of 10,000 square meters, an office building of 4,000 square meters and a warehouse of 2,000 square meters, to make fully automated chicken breeding equipment; in the second phase, a new standardized workshop of 7,000 square meters was established, which has been put into production of large-scale supporting products for chicken breeding equipment.
In order to implement the national development trend of automation, informationization, and intelligence, we has introduced and invested in many sets of large-scale automatic production equipment, including high-power fiber laser cutting machines, CNC (numerical control) plasma cutting machine, CNC profile machine, automatic line welder, CNC hydraulic shearing machine, CNC hydraulic bending machine, wire drawing machine, spot welder and other advanced production equipment. The second phase of the project has covered advanced production equipment such as PP excrement cleaning belt production line, as well as an intelligent equipment processing center. With these facilities, we can produce over 300,000 sets of meat and egg chicken breeding equipment, to breed more than 30 million chickens. During the production of animal husbandry breeding equipment, we have adopted automatic production equipment instead of traditional manual labor, to achieve fully automated production of products, and make a number of technologies at a higher level in China. With the advantages of high production efficiency, low worker labor rate, good product performance, visualization management, practicality, energy saving and emission reduction, etc., we have effectively improved the automatic control ability and information management level in the production process, making it becoming one of the larger production scale breeding equipment makers in China.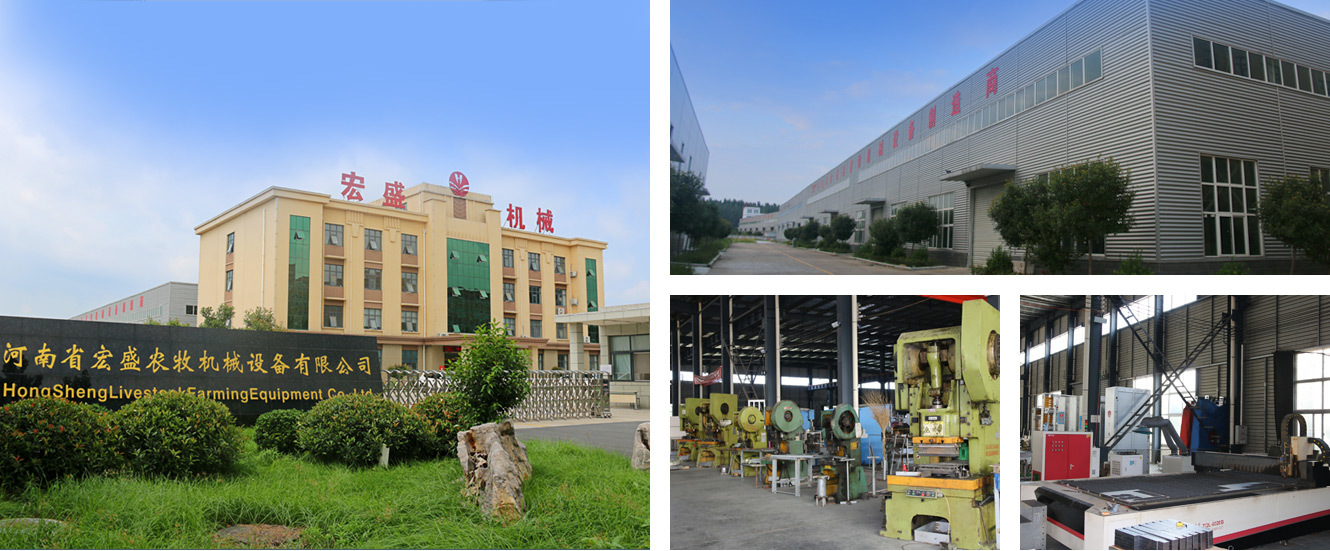 Our "Hongsheng" series of products are featured with scientific and reasonable designs, high-quality production technologies and thoughtful after-sales services, which have won the trust of customers. At present, we can provide customers with a variety of special cage breeding equipment for livestock and poultry, and has developed multitudinous advanced systems, including automatic feeding systems, dung cleaning systems, egg collection systems, water drinking systems, temperature control systems, automatic disinfection spray systems, audible and visual alarm systems, etc. Simultaneously, concerning about the automatic breeding equipment, we can supply a full set of integration solutions for the national breeding industry. Additionally, we have employed plentiful senior engineering and technical personnel, who can offer customers a full range services, such as chicken farm site selection, chicken house design, free technical consultation, etc.
To maintain the development of the Hongsheng, we have always taken the two aspects, that is, technological innovation and quality control, as its long-term driving forces. We have a professional technical development team, an experienced installation team and a pragmatic and efficient after-sales service team. From the standardized production process to the strict quality management system, we control each process to spot on our orders in many perspectives, such as, product design, production, processing and inspection, logistics and shipping and engineering construction. Consequently, we are able to serve our customers with cost-effective products.
In 2016, we were awarded the title of "Xiping County Honest Enterprise" and "Excellent Enterprise for Economic Development"; "Henan Provincial Small and Medium-sized Technological Enterprise" and "Top Ten Industrial Enterprises" in 2017; "Henan High-tech Enterprise" in 2018. In 2019, we won the certificate of "National ISO9001 Quality Management System Certification" as well as the title of "Provincial Enterprise Technology Center" in 2021.
Sticking to the business philosophy of "guaranteeing quality, serving customer first and offering integrity service", Hongsheng Company jointly promotes the intensive, automatic and intelligent development of animal husbandry industry.